What Makes a Comfortable Fleece Hunting Hoodies

Whether you're an avid hunter or a casual outdoor enthusiast, having the right gear is essential for a comfortable and successful hunting experience. One such piece of clothing that can make a significant difference is a fleece hunting hoodie. Bassdash mens fleece hoodie is one of the indispensable equipment for hunting and outdoor activities, which not only protects us from cold and bad weather, but also provides comfortable wearing experience.
1. Material and Warmth

Fleece fabrics and polyester are common choices that provide good warmth and quickly wick moisture away from the body. Our soft fleeced lining provides extra warmth and comfortable feel when putting it on. Water and stain resistant treatment makes dirt easier to clean as well as making the sweatshirt a nice gear for fishing on cool rainy days; Advanced pill-resistant and anti-static fabric with high-stitch density for durability; Stretchy elastic fabric for free movement.

2. Right size and cut

Finding the right fit and size is crucial for optimal comfort. Consider whether you prefer a snug or relaxed fit, keeping in mind that layering may be necessary in colder weather. Ensure that the fleece lined hoodie is not too tight around the shoulders and allows for easy movement. You can refer to our size chart of body measurement and length of the sweatshirt.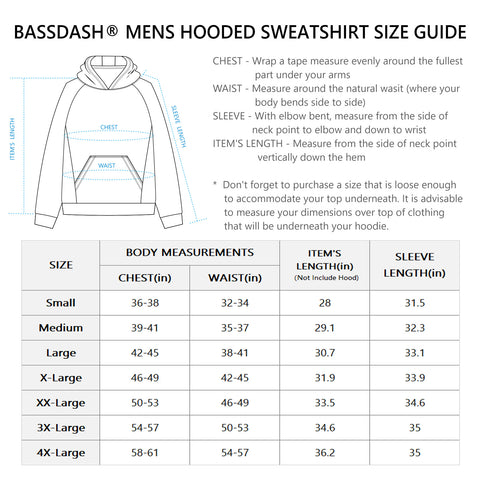 3. Functional design

Look for a hoodie designed specifically for hunting purposes. It should have features like a camo pattern or earthy tones to blend in with the surroundings. The highland and grunge camo patterns are the new version we add to this fleece pullover men's hoodies. The classic autumn forest and mossy wood help you hide in many environment while hunting. For fishing or any other outdoor sports, you can also choose our pure colors in black, blue and grey colors.


There are still some details of the design that meet your needs and make it easy for you to store your items and adjust your clothing during outdoor activities.


The neck gaiter doubles as a face mask, with laminated laser cut breathing holes ensure that you breath freely.

Three-panel hood design makes the hood more form-fitting, comfortable and helps it stay in place to fit your head & your hat.

Adjustable drawcord to make sure the hood suit your head & hat better.

A thumb hole on the cuff of the sleeve helps to keep the sleeves firmly in place