Home
Bassdash Shadow Vertical Jig Lures 40/60 Grams For Saltwater Freshwater Fishing
Bassdash Shadow Vertical Jig Lures 40/60 Grams For Saltwater Freshwater Fishing
When the big pelagic species are hanging low, there is nothing like a light jigging lure to hit the perfect place in the water column and stir up a frenzy. Keep in mind that absolutely everything will attack these light jigs. You might want to put some consideration into your leader...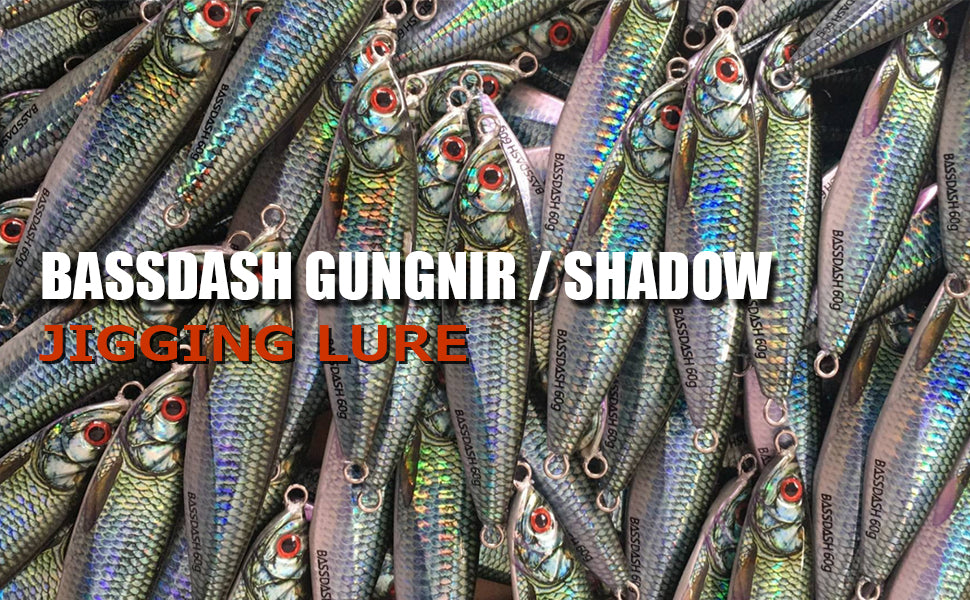 Features:
These jigs are lead construction; come pre-rigged with a VMC treble hook and perfectly balanced ready to drop; The Gungnir jig is available in 20 and 30-gram sizes
With holographic HD head and body, 3D eyes, and shining paint, the slow jig looks like a falling injured or dead minnow, it flashes and vibrates by itself
Slow drop for catching fish on the way down keeping the jig in the strike zone longer, increasing your chances of catching fish; It is also the perfect casting lure
You can mimic injured bait by pounding the bottom for a reaction strike, or lift and drop at different depths to catch feeding fish
They will prove seriously deadly on a host of fish from bass, snapper, kingfish to tuna and all sorts of other saltwater or freshwater fish species in between
Product Specs: 
Shadow in 40 and 60-Gram Sizes
Drop speed: slow
Weights: 40 grams (1-13/32 oz) and 60 grams (2-7/64 oz) 
Hooks: VMC #4 treble hook on the tail; VMC #1/0 single hook at the head
Shadow in 100, 150 and 200-Gram Sizes
Drop speed: slow

Weights: 100 grams (3-1/2 oz), 150 grams (5-5/16 oz) and 200 grams (7-1/16 oz)
Hooks: 2X Strong #5/0 Assist Hooks on 100-gram size; #7/0 on 150-gram size; #8/0 on 200-gram size
Buyers' show:


SHIPPING POLICY
Normally we need 1-3 business days to process your order. A shipping confirmation will be sent to you via email once your order is shipped.
Most of products are shipped from our factory in China, but some heavy products will be delivered by Bassdash Amazon, which means you may receive separate shipments under some circumstances, hope you can understand.
Free standard Shipping for all orders over $59
Standard shipping time: 9-15 days Expedited shipping time: 4-7 days Please note: Receiving Time=Processing Time+Shipping Time
RETURN POLICY
If you are not completely satisfied with your order, simply return it to us within 30 days of the receipt date. Exchanges can also be made within 30 days of the receipt date.
Please note: (a) Items that have been used cannot be returned or exchanged; (b) items that are special ordered cannot be returned or exchanged; (c) laundered (washed) garments cannot be returned or exchanged.
To start a return, please contact us at support@bassdash.com first to describe the items you want to return and the reasons for your return.
The cookie settings on this website are set to 'allow all cookies' to give you the very best experience. Please click Accept Cookies to continue to use the site.